Sifu David Leopold has been practicing, studying, researching, and teaching martial and healing arts since 1994.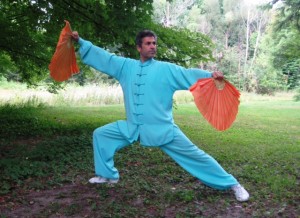 In 1999, Sifu David achieved his black belt in Shaolin Kung Fu. Since 1999, Sifu David has received numerous certifications in Taichi hand and weapon forms and seven Qigong routines. In 2009, Sifu David received his Usui Reiki Master certification from Naturopathic School of Medicine in Toronto.
In 2012, Sifu David travelled to China to compete in the International Wushu competition in Shanghai. He brought home 2 gold and one bronze medal. By combining all these modalities and experiences, Sifu David brings a unique style of teaching that includes technique, philosophy, and practicality. Sifu David's approach to teaching is relaxed and he believes Taichi and Qigong practice should be useful in everyday life and enjoyable to do.
In addition to teaching regular classes, Sifu also conducts workshops and participates in research and development projects. Most recently, Sifu David taped six segments on "Zen Breaks" found on the popular wellness YouTube channel "The Chakra House of Healing".
Sifu David has a passion for martial and healing arts. His holistic approach to wellness includes physical, emotional, spiritual, and nutritional well being. Sifu David continues to improve his skills as a practitioner, teacher/mentor and hopes to teach for the rest of his life.
Sifu David's words of wisdom
"To be a master of what you do, you must first be a master unto yourself".
QUALIFICATIONS:
Taichi 10 Top View – Left Side
Taichi Single Fan – Top View